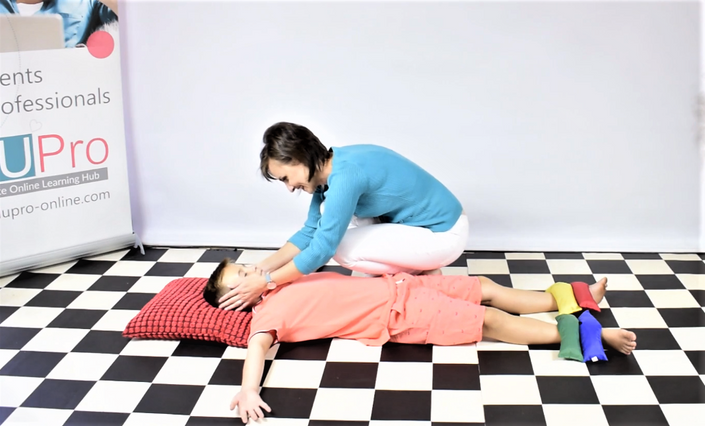 Understand The Fear Paralysis Reflex - For Professionals
This Comprehensive Course Takes You Step-by-Step Through Practical Exercises And Activities To Help Settle The Fear Paralysis Reflex
Do you as a professional know a child or adult who:
Has a low tolerance to stress and anxiety
Is oversensitive to touch, light, sound or movement
Struggles with sensory processing
Is overly emotional or clingy
Stares without blinking
Often holds their breath
Tends to be stiff, with tension throughout their whole body
Clenches their fists
Does not like to make eye contact
Is excessively shy
Has obsessive compulsive behaviour
Easily withdraws from others
Has selective mutism
Has autistic like symptoms
Has defiant or controlling behaviour
Has extreme fear
Has phobias
Has sleeping or eating disorders
Has night terrors
Experiences extreme fatigue and constantly feels overwhelmed
If you recognize any of these signs or symptoms in a child or adult, it may be that they still have an active fear paralysis reflex (FPR).
According to Herald Blomberg, a Swedish psychiatrist, children diagnosed with ADHD and/or Autism always have retained primitive reflexes that affect some of their capabilities. One of these reflexes is the Fear Paralysis reflex.
The FPR is one of many primitive reflexes that helps to protect a baby in utero. (A reflex is something that happens automatically without you thinking about it). If there is a threat to either the embryo or mother, this specific reflex activates the freeze responds in the embryo. This is actually beneficial as it lowers the embryo's exposure to adrenal and cortisol, the stress hormones. At this stage of a baby's development, too much stress hormones can be harmful.
The FPR thus serves a good purpose. However, if the FPR remains hyperactive after birth, it can cause a person to become 'stuck' or 'frozen' in unexpected challenges. According to research, it can also be linked to excessive fear and phobias.
How does this influence a child's development in and out of the classroom or sports field? Well, a fearful child cannot concentrate properly, cannot regulate his emotions effectively and ultimately, cannot reason or use higher cognitive functions. Ultimately, they cannot learn new skills effectively.
If the FPR is not integrated, it can further result in a super sensitive skin (tactile defensiveness). On the flip side of things, proper tactile development is an important step towards auditory development. An active FPR also causes the Moro reflex to stay active. And if the Moro reflex is active, it has even more significant implications on a person's everyday life. No wonder that professionals in the reflex field, call the FPR and the Moro reflex the gateway to the integration of all other primitive reflexes!

Thank goodness that there is a solution to all of this! Specific exercises as developed by professionals in the reflex field, will help the FPR to settle down and go to rest. You will learn all about this - and more! - in this comprehensive and practical online course.

This 4-hour ALL-IN-ONE course will take you step-by-step through short and easy modules to help you understand primitive reflexes and the FPR better. It will also provide you with assessment and screening techniques, checklists, charts, strategies, interventions and exercises to help anyone who experiences sensory sensitivities (especially when it comes to touch), sensory processing and emotional regulation difficulties as well as fear.
As a professional, you will truly be equipped with amazing knowledge to help a child excel. The best part is that you can learn all that you need to know and discover well-researched principles that work - in the comfort of your own home!
Now that have had a quick overview of what you can expect in a nutshell, why wait? Jump right into your first module and help change a child's life. Enjoy your journey of E-learning with me!

PS Want to see ALL that this course has in store for you? Scroll down and read through the full course curriculum. You can also click on the sessions that are unlocked. This will allow a sneak-peak into some of the sessions of the course.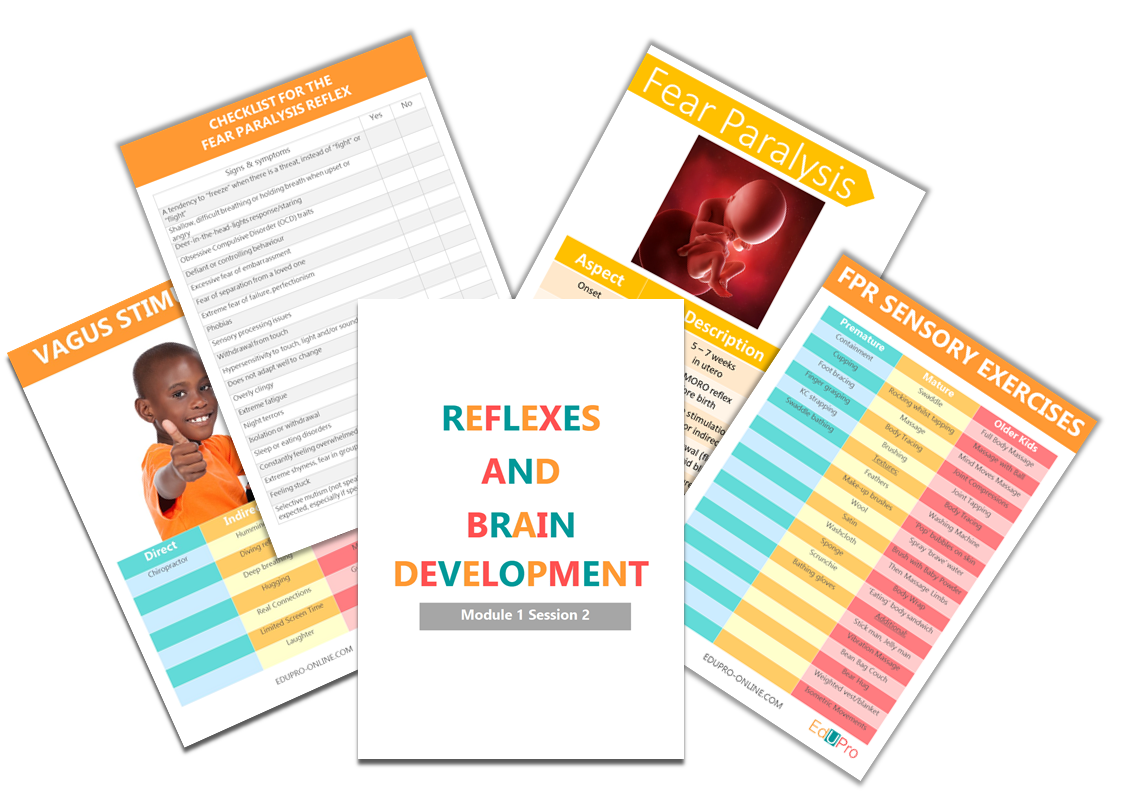 Your Instructor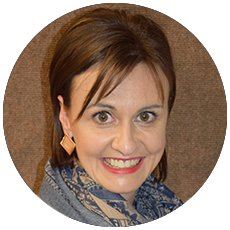 I am first and foremost the mom to 2 beautiful boys age 12 and 9, and the wife to a wonderful man. I am also a passionate professional with a holistic outlook to childhood development. As a registered Kinderkineticist at both SAPIK and SAQA, I have been in private practice for 15 years during which I have gained practical experience in the Health, Medical and Education Sector. I have also served on the board of SAPIK for 5 years as one of two vice-presidents. I am also the founder and owner of Kwanda Kinetics Development and Therapy Centre.
However, after we as a family had experience some difficulties with the development of our oldest son, I had to go beyond the knowledge I have obtained in my Masters Degree and delve even deeper to find some of the answers we were looking for. I therefore went for various additional courses and became a SNAP consultant for autistic children. I have also received advanced training in Integrated Learning Therapy.
Through in-depth research, attending courses, learning from other professionals, working with thousands of children in our practice (since 2010, an average of 5 Kinderkinetici have served more than 8 500 children in our practice – both in a group setting as well as in an individual therapy setting), we have discovered remarkable practical solutions to some of the challenges that we (and other families) have faced.
Today our oldest son is doing extremely well - he is happy, healthy and confident with lots of friends. With God's grace, he even got academic colours for two years in a row and played for the first rugby team in his age group..! Yes, he sometimes still needs to work on his listening skills, but hey, who doesn't. 😊
I have been presenting workshops to more than 1 250 teachers and parents over the past decade, sharing the knowledge I have gained. Saying all of this, I want to teach you what I have learned as well. The information in this course will equip you as a parent, teacher or professional to help children more effectively. Ultimately, it will help your child to reach his/her full potential! It has change the lives of many children and their families – in can change yours as well!
Course Curriculum
Welcome!
Available in days
days after you enroll
Disclaimer
Available in days
days after you enroll
Meet Your Instructor
Available in days
days after you enroll
Frequently Asked Questions
When does the course start and finish?
This online course is completely self-paced. From the day that you enroll, you have a full 1-year access pass to all of the course content on this page. Amazing, right?!
Is this course accredited?
We are in the process of accrediting this course with the HPCSA. Thus, our accreditation is pending. You will be notified immediately once this course has been approved. In the meantime, you will be able to download a certificate of completion once you have finished your course. An open book examination may be required in order to obtain your CPD points in the near future.
Do I get a certificate when I have finished this course?
Absolutely, yes! You can download your certificate after completion of this course by following the prompts on our website. Enjoy being rewarded for learning something new and valuable that will help to change a child's life!
Do you know a child that:
Has sensory processing issues?

Is often stuck in 'limbo' or freeze mode?

Has difficulty breathing or holding breath when upset or angry?

Is defiant or have controlling behaviour?

Has an excessive fear of embarrassment?

Has panic attacks?

Startles easily?

Has short attention span and poor memory?
If the answer is yes, then this course may just be the answer that you were looking for.
If you are still unsure, have a look at the 'unlocked' sessions to see more about what this course entails. This course offers loads of resources and support to help a child become the hero in his/her own story. Enroll now and give a child the best possible gift of all - a life without fear!